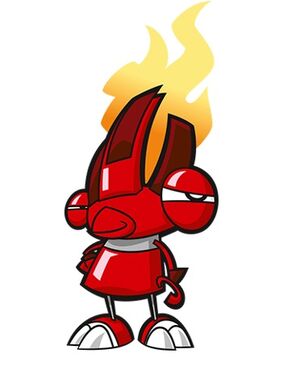 Flain is an Infernites Mixel and Guren's partner.
He is voiced by Tom Kenny in the shorts and all other material. He is also one of the main characters.
Description
Edit
Flain is the adventurous leader and known as "the smart one" of the group. But beware, if Flain thinks too hard that massive brain of his will explode and catch fire!
Relationships
Edit
Guren Nash- Guren is Flain's human partner. When Guren first came to the Mixel World, he was freaked out when he first met Flain but then later on befriends him.
Whenever Guren is having trouble with some other things, like dealing with his father, back on Earth, Flain likes to encourage him or give him some advice.
Gen- Apparently, Flain and Gen never seem to get along very well as he and Guren usually do. Gen describes him as a hot headed knucklehead while Flain describes him as a total jerk because he never accepted Magnifo to be his partner and therefore thinks that Gen shouldn't join the team. However, they were forced to work together and put aside their differences when Guren and Magnifo both catch a cold in "Hot Heads."
Other InfernitesEdit
Vulk-
CragstersEdit
Seismo- Flain usually gets along well with Seismo and the two are considered best friends. They love to go down on lava slides and play Rockball with the other Cragsters.
Krader- He and Krader are also good friends. However, when they mix it becomes a Murp. Flain sometimes gets annoyed by him, but the still have a good relationship.
ElectroidsEdit
Teslo-Flain seems to be best friends with him as they went up to Mixel Mountain with the others to find the rainbow cubit to restore the Mixel world and the Mixels (just before Guren and the Tenkai Knights arrived in Mixel Land).
FrosticonsEdit
Flurr- Flain seems to be good friends with Flurr as he was invited to go snowboarding. They also went on an adventure to find the rainbow cubit on Mixel Mountain.
Slumbo- Flain and Slumbo are also good friends although he is an Infernite and that Slumbo is a Frosticon. They both share a hate of Log Toss.
Lunk-
Fang Gang
Jawg-
Kraw-
Balk-
Glorp CorpEdit
WiztasticsEdit
Community content is available under
CC-BY-SA
unless otherwise noted.