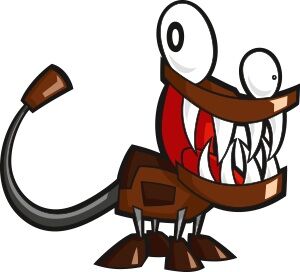 Jawg is a Fang Gang Mixel.
Description
Jawg is a fiercely loyal and animalistic Mixel and leads the Fang Gang. Nothing would stop him from protecting his tribe using his incredibly huge and indestructible teeth to bite the intruders.
Personality
Jawg is the epitome of a watchdog: loving to his friends, a menace to anyone who endangers them. Despite not having a heavy vocabulary, preferring to say only one word at a time and pant, bark, and laugh the rest of the time, Jawg is still a smart, if not animalistic Mixel. However, he does anger pretty easily, and is not above getting revenge when he feels wronged.
Relationships
Humans
Toxsa Dalton- Jawg loves Toxsa, as if he was his dog. However, Toxsa dislikes him because of his "creepy eyes and creepy smile" and how he keeps eating everything.But in Jawg-Sitting, Toxsa was forced to dog-sit Jawg and begins to have a liking in him.
Gen-
Mixels
Infernites
Flain- Jawg and Flain seem to be friends as they went snowboarding in the Frosticon Kingdom. However, Flain hates his game of Log Toss.
Vulk-
Cragsters
Krader- He seems to be friends with Krader as they went snowboarding in the Frosticons kingdom.
Electroids
Zaptor- Zaptor might not like him because Jawg ate his Hamlogna Sandwiches.
Volectro-
Frosticons
Lunk-
Other Fang Gangsters
Gobba-
Chomly-He and Chomly are shown to be friends for they both love to play Log Toss.
Flexers
Kraw-
Tentro-
Balk-
Glorp Corp
Glomp-
Torts-
Glurt-
Spikels
Footi-
Hoogi-
Wiztastics
Mesmo-
Wizwuz-