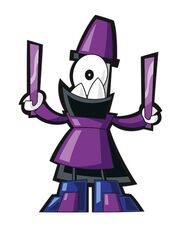 Magnifo is a Wiztastics Mixel and Gen's partner.
Description
Magnifo is the smartest and most serious of the Wiztastics, the purple tribe of traveling magicians. This one-eyed creature with a wizard's hat and cape plus 2 magic wands puts loads of energy into every show with the help of his bumbling assistants. And even if you think Magnifo's magic act is cheesy, don't tell this super-confident character or the rest of the Wiztastics-they love it!
Relationships
Humans
Gen- When he first met Gen, Magnifo tries to "turn his frown upside down" by putting on a magic show. However, it only annoyed Gen instead and therefore makes him lose his confidence because he refuses to be his partner and only wants someone else that's like him, like Mesmo! But in the end, Gen accepts Magnifo and tells him that he really loved his magic because it made him laugh on the inside thanks to Guren and Flain who convinced him.